Source: California Invasive Plant Council

URL of this page: http://www.cal-ipc.org/volutaria.php
Help stop the spread of Volutaria!
Upcoming volunteer opportunities in Borrego Springs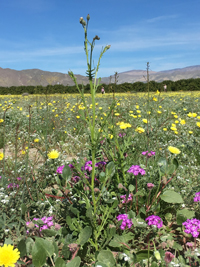 Volutaria
bolting March 8.
Join The Borrego Weed Warriors to learn how to identify, report and remove the Volutaria threatening Anza Borrego State Park wilderness and beautiful wildflower blooms. Meet old friends, make new friends, meet the Invasive Plant Control Team and help save Borrego.
WHEN: Saturday, March 11 or Friday, March 17, 8:00 am until noon (followed by snacks and volunteer appreciation!)
WHERE: Meet on the north side of Christmas Circle in the parking area near the Kiwanis Grapefruit Stand.
BRING: Gloves and a hoeing tool if you have one, or we will provide what you need. Remember water and hat!
You can also serve as a spotter for the team -- we will show you how! And as a bonus, we will identify many beautiful wildflowers along the way!
For more information contact Pat Matthews, patmatthews@hotmail.com or Ramona Robison, rrobison@cal-ipc.org, 916-802-2004.
Weekly Work Parties: If you are in Borrego Springs on a Monday or Wednesday into mid-April, contact us and you can join the weed team for more adventures!

Printer-friendly version