Source: California Invasive Plant Council

URL of this page: http://www.cal-ipc.org/index.php
Quick Links
Plant Profiles - Information clearinghouse by species...
Membership - Individual or organizational...
Store - Books, brochures, reports, gear, and more...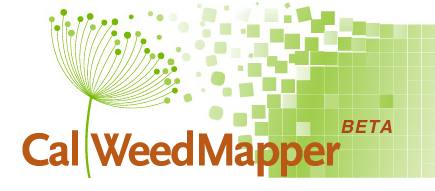 Fall issue out to members, Summer issue now online.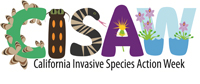 Across California, invasive plants damage wildlands. Invasive plants displace native plants and wildlife, increase wildfire and flood danger, consume valuable water, degrade recreational opportunities, and destroy productive range and timber lands. Cal-IPC works with land managers, researchers, policy makers, and concerned citizens to protect the state's environment and economy from invasive plants. More...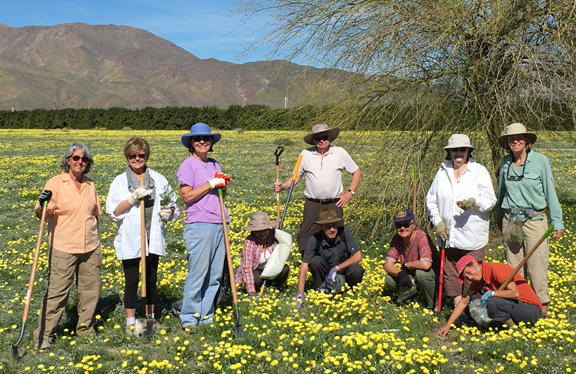 A volunteer crew looking for a new weed,
Volutaria tubuliflora
, among prolific desert wildlflowers in Borrego Springs. Cal-IPC is coordinating partners to control the infestation, which could spread to desert habitats across the Southwest.
New at Cal-IPC.org...
2017 Symposium call for abstracts: Share your knowledge with the stewardship community! The 26th Symposium will be held in Palm Springs Oct. 24-27. More...
Help us fund WMAs: Join our advocacy push in the California legislature. More...
Trainings for stewardship volunteers: Four events being held around the Bay Area this June and July. More...
Inventory update: Cal-IPC has released proposed additions to the Inventory for public comment through May 8. More...
Invasive Species Week: Participate in the annual CA awareness event. More...
Calling all runners: Join Cal-IPC's Team Run Wild for the 2017 San Francisco Marathon in July! More...
2017 Symposium: Set for Oct. 24-27 in Palm Springs!
AmazonSmile: Support Cal-IPC when you shop online. More...
New look: For our 25th Anniversary we have adopted a new logo, redesigned our newsletter, and wlll be rebuilding this website!
Herbicide BMP manual: Information on safe and effective management with herbicides. More...
Climate resiliency reports: Integrating invasive plant management into climate adaptation. More...
Avoiding invasives in landscaping: Our new checklist compiles information from the Cal-IPC Inventory, PlantRight, and the CDFA Noxious Weed List so landscape designers can avoid using invasive plants. More...
Newsletter: Fall issue, featuring north coast knotweeds, SF Bay sea lavender, One Tam, and more, will be posted when our next issue is mailed to members. Summer issue now posted. More...
CalWeedTalk: Join our email discussion list for job postings, announcements and more. More...